All products with cheese contain DAIRY cheese but you can request VEGAN cheese instead for $1.95 per item. Pizza just isn't pizza without some form of cheese imho.
The owner told us she had trouble at first with melting the vegan cheese so they perfected the method and walah! gooy-melting-vegan cheese pizza! All toppings for the pizza (and all ingredients) are vegan. One thing I forgot to note in my HappyCow review is the fact that their menu clearly states "vegan dishes cooked with exclusive utensils."
The owner and entire staff was really friendly chatting it up w/every table. The cannoli was amazing! All vegan of course. The owner said she's read a lot of great reviews and is glad people like their food. We assured her we would post more great reviews and refer more people her way. I really, really hope this place does good business. The food is amazing, the prices are affordable, the staff is kind & caring, and everything is VEGAN. This place is definately worth the trip to Cerritos for anyone on the West Side. Thankfully it's a (albeit long) hop, skip, & jump down a couple of main roads for me. Too bad it's too far for free delivery, but take-out is always an option.
There were 3 in our party last night- 1 vegetarian & 2 vegans. We split an order of bruschetta to start (very fresh & flavorful) and ordered 2 seperate pies, 1 Potato Rosemary pizza w/regular cheese for the vegetarian (she assured us it was quite flavorful) and 1 That's Amore w/added bell pepper & vegan cheese. The owner reminded us to save room for cannolis which we all eagerly enjoyed. They're working on getting a website up soon but so far business has mainly been due to word of mouth.
Not sure how clear you can read the menu in these pics...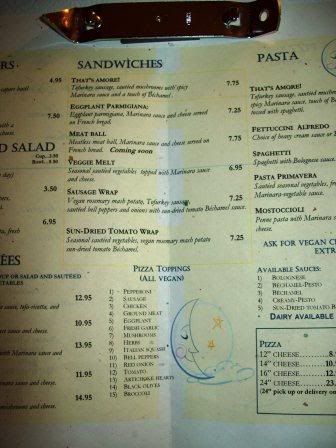 What I managed to save for Friday's lunch.